Mr. Rajeev Suneja

Consultant Orthopaedic Foot and Ankle / Lower Limb Surgeon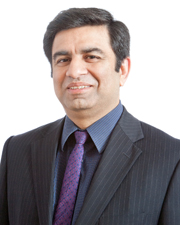 Mr. Rajeev Suneja
Mr. Rajeev Suneja is a Consultant Orthopaedic Foot & Ankle / Lower Limb Surgeon, specialising in arthritis, sports injuries and trauma of the foot and ankle and knee surgery. He is a Clinical Lecturer at the University of Manchester and an Honorary Senior Associate Lecturer at the Edge hill University.
His NHS practice is based at the Salford Royal (Hope) Hospital (University of Manchester Hospital) where he sees both GP referrals and complex referrals from other surgeons.
In addition to his medical and surgical qualifications, Mr. Suneja has an MSc in Trauma from the University of Birmingham and a Masters degree in Orthopaedic Surgery. He gained his specialist training in Manchester, following which he completed a Foot and Ankle Fellowship at Wrightington Hospital.
He was awarded the prestigious British Orthopaedic Foot and Ankle Society Travelling Fellowship in 2007 and visited centres of excellence in the USA.
Mr. Suneja specialises in the entire spectrum of foot and ankle disorders and sports injuries. This includes Total Ankle Replacements, arthroscopic (keyhole) ankle and foot surgery, bunion (hallux valgus) & lesser toe deformities, minimally invasive foot and ankle surgery (MIS), complex foot and ankle / rheumatoid disorders, ankle ligament reconstructions, revision surgery, sports injuries, complex fractures and forefoot surgery. He performs ESWT (shock wave therapy) for plantar fasciitis and Achilles tendinitis. He also performs knee arthroscopy and knee replacements.
Mr. Suneja has published a number of articles in international and national journals including that on Total Ankle Replacement and has presented numerous papers at scientific meetings. He was awarded the 'Young Investigator Award' in Florida, USA in 2001. He was a Visiting Lecturer to the world renowned Mayo Clinic at Rochester, USA in 2007. He is a member of many international and national professional organisations. He is actively involved with medical education and research and the training of orthopaedic surgeons.
Mr. Suneja consult and operate (privately) at
Alexandra Hospital
Cheadle
Capio Oaklands Hospital